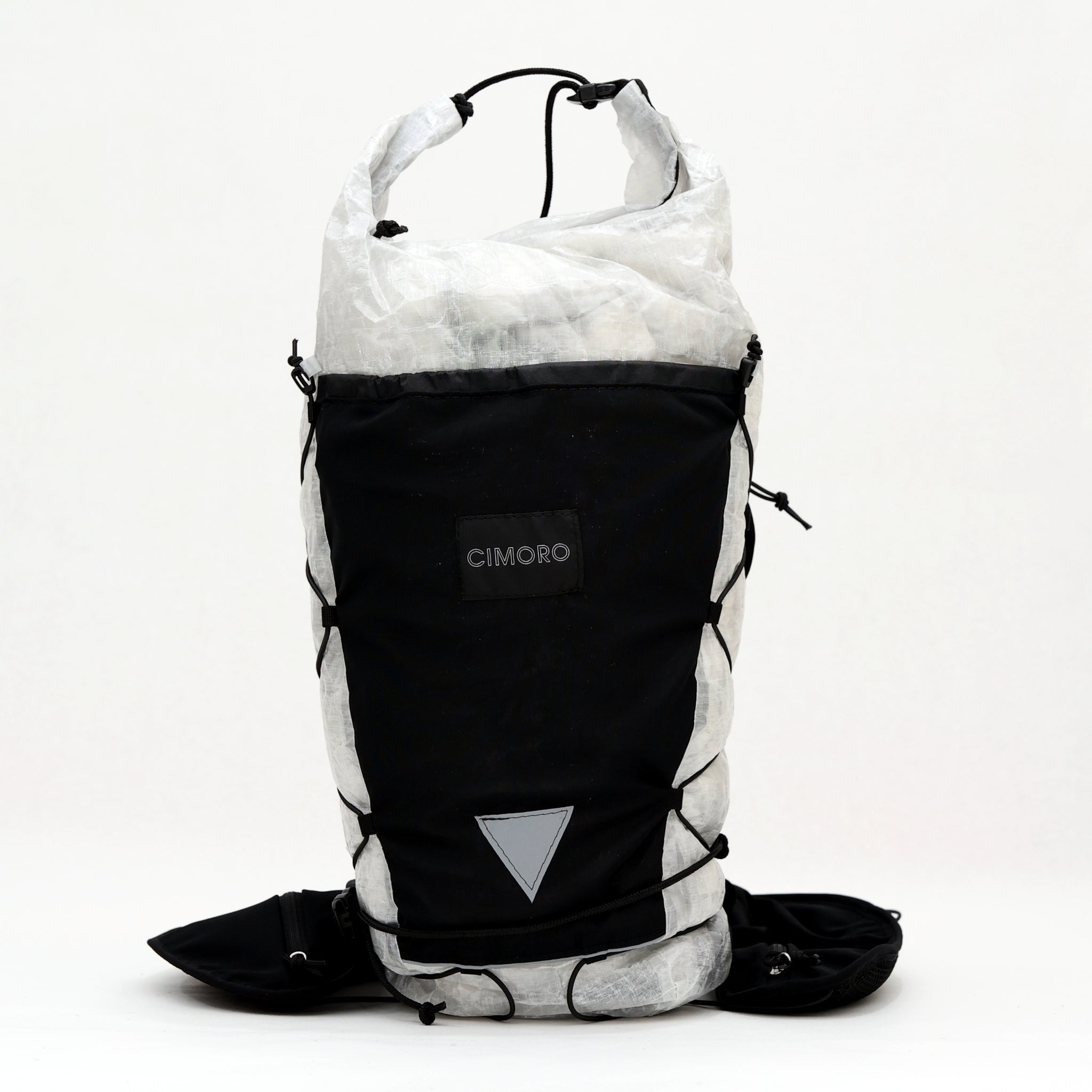 CUSTOM - Carbon6
STYLE_ UL Running Vest V1 - Carbon6, Limited Edition.

FUNCTION_ Ultra-light for: City, Mountain and Road.

DESIGN SUMMARY_
Back by Popular Demand; commissioned during the Founder Edition release in December 2021. Available in Black 5 Oz and Translucent 1.43 Oz Dyneema.

Additional specs on the the UL Running Vest V1 are:
- Choice of Navy blue or Black Stretch mesh please ask.
- Blue or Black Hanging loop
- Branding, Reflective Triangle or Embroided Triangle or nothing your choice.
- Additional 10CM Extra Length to main compartment = 2-3 litres depending on vest size.
- black stretch mesh front pocket.
- webbing loop under mesh pocket for a light for night running.
- Asymmetrical Opening for pack closure, when fully loaded.
- Anchors for poles on base of back (as well as behind shoulders).
- A small mesh pocket inside the zip pocket on left or right wing for storing ID card, credit card, your keys or some small change.

The rest of the spec is as per the UL Running Vest V1, below:
This carries on the theme of iteratively improving the design from prototype stage, by listening and absorbing feedback from a team of valued customers. The vest evolves steadily!

Using a stripped-down, modular, minimalist construction, the shape has been optimised for stability, whilst keeping the weight close to your centre of gravity. You'll forget it's there!

DETAILS_
Available 25 March 2022 @ 18:00 GMT.

Limited to 10.
PRODUCTION_
Please allow 3-4 weeks for your order to be cut sewn and posted out by DHL or UPS courier.


SIZES_
Available in two sizes.
_ 4-12 Litre (Small*)
_ 5-15 Litre (Medium**)
* Medium fits Height >175cm Height and Chest >85cm (but there is wiggle room).
** Small has cross-over with Medium, but will fit people from extra-small to small to small medium.
COLOURS_
_ Black - 5.0 Ounce Dyneema, 150 Denier Polyester face.
_ Choice of Black or Blue Stretch Mesh, your choice, please ask.
SPECS_
_ Weight 350 grams***

_ Volume 5-15 Litre***

_ 1x Waterproof main compartment, with Dyneema Taped Seams.
_ Multiple pockets on front vest.

_ Compatible with a multitude of water bottles.
_ Large smartphone Compliant (Iphone / Android Flagships).
_ 6 anti spill pockets & pouches.
_ 1x large (quick stash) front compartment on main pack.

_ 2x Zipped Pockets.
_ Very adjustable fit, using a velcro modular interface, to sculpt to shoulder shape/ angle. Elastic adjustment of side compression through pockets.

*** Size Medium - 5.0 Ounce Dyneema version.
CUSTOMS_
For a small additional fee custom alterations are possible on these designs please ask! Thanks.
QUESTIONS_
Please message for questions either via the chat, Instagram or email on the contact page!
Thank you! 🙏 👍

************************************
SCROLL BELOW FOR 3D MODEL + IMAGES!
************************************
MADE_ to order by Future Master Craftsmen - London, England
MATERIALS_ UHMWPE_ Dyneema Composites (Back compartment), front vest made from Polyester, Elastane and Nylon.

DIMENSIONS_

VOLUME_ 5-15 Litres (Medium), 4-12 Litres (Small).

MASS_ ~350grams (Medium - 5oz White Dyneema).
Please allow 2-4 Weeks for your order to be cut, sewn and made.
LIMITED EDITION. #1 - 6